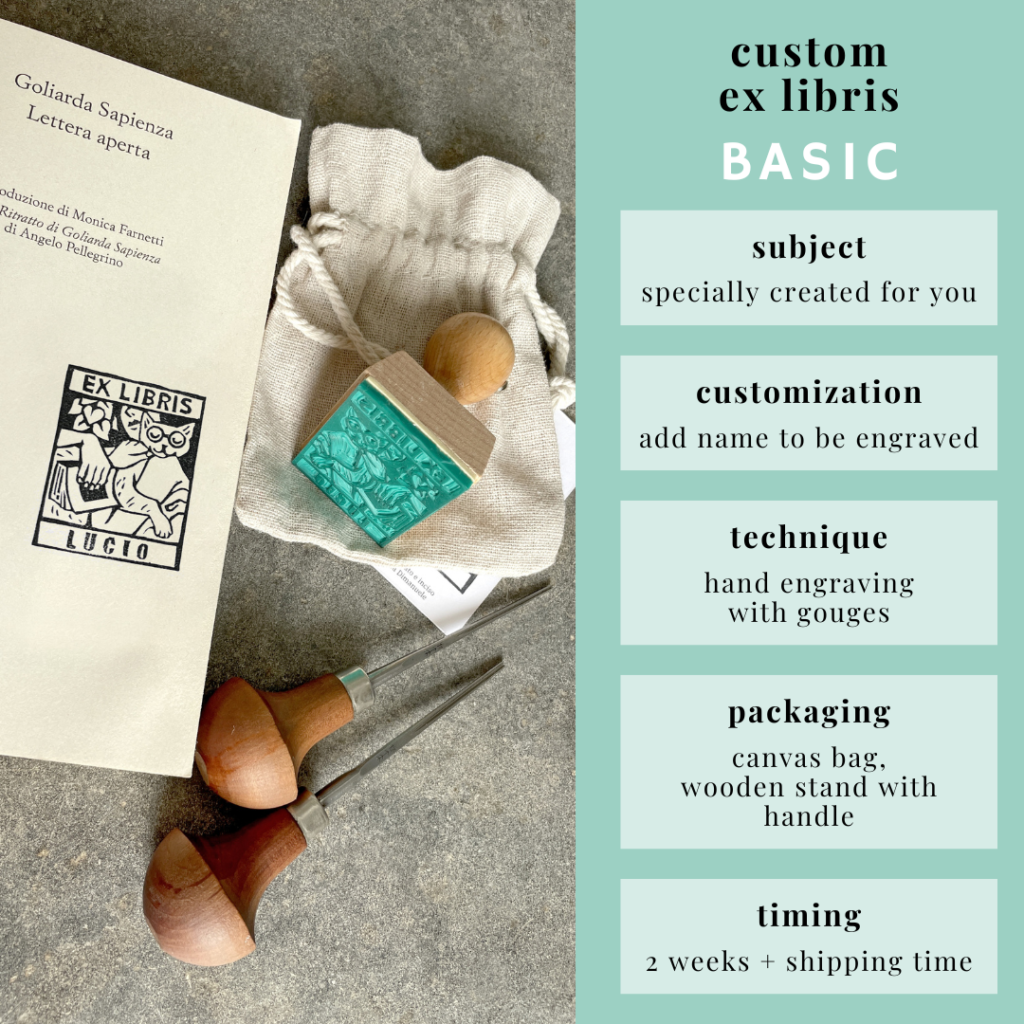 Commissions for custom ex libris to receive for Christmas are closed.
Taking care of every aspect of the work alone, and wanting to give the greatest possible care to the stamps I make by hand, I cannot accept new orders.
You can always purchase the gift card to print and deliver at Christmas, and then the recipient will contact me directly to create their prepaid custom ex libris. (You can find it HERE)
If, however, you want a custom ex libris, but not to receive it in December, then you can write me an email stating which type you would like (between basic and premium), where it will be sent and I will send you a personalized order via email. So you can put yourself among the first on the list to make after the holidays. Write to me at: exlibris.artigianali@gmail.com
The stamp measures approximately 50 x 38 mm.
Packaging: canvas bag and stand with wooden handle
Shipping costs excluded: € 9.00 for Italy, € 17 for Europe in the following countries: Austria – Belgium – Denmark – Finland – France – Germany – Greece – Ireland – Luxembourg – Norway – Netherlands – Poland – Portugal – Spain – Sweden.
Free shipping in Europe for orders equal to or greater than €150, also visit the SHOP and PRINTS section
The ink pad is not included

After the purchase you will receive a confirmation email, in which you can access the form to describe the subject of your ex libris.
You choose the subject for yourself or for the recipient of your gift!
It takes about 2 weeks from when I receive the completed form. This is an indicative period and also depends on your response times. If you have special needs, write me before purchasing, to check my availability.
Are you thinking of giving an ex libris for Christmas? Then I advise you to think about it very soon! From October to the end of November I take commissions for the Christmas period, I usually don't take new commissions in December to avoid shipping in the worst time of the year!
Are you undecided because you don't know how the drawing will come? If we do not find the right design for you, you can ask for a partial refund (I will keep € 10 for making the proofs), the refund is not applicable after a design is chosen and I have already engraved the stamp.
You will receive a confirmation email with a link to the form that you will need to fill out so that I have all the information to start working. You will have to describe me the subject you would like: an animal, a passion, how you love to pass the time, a place of your heart, your favorite film or it could be one or two drop caps. If you already have a reference image you can send it to me by email
within 7 working days I will usually send at least 2 or 3 pen tests by e-mail, you will tell me which one you prefer, if you want some changes or if you want other tests, until you find the subject that best represents you and satisfies you.
you will have to give me confirmation of the final draft by email.
my favorite part: I arm myself with gouges and start to engrave the design
print the stamp on the tag where you will also find the instructions for use and cleaning. It will arrive in its canvas bag and firmly attached to the support with wooden handle. Once shipped I will send you the code to track the package.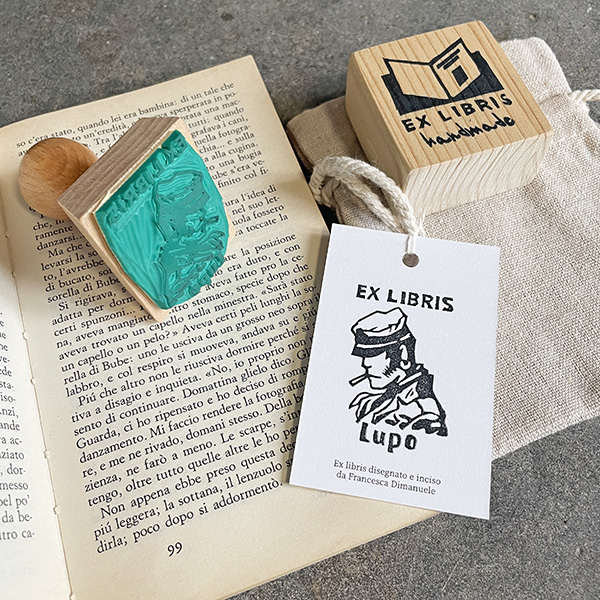 the subjects
of the ex libris
already created
cannot be replicated
They are an example of which subjects you can ask and how they can be made with the linocut technique.
I really want each of you to have a unique and unrepeatable ex libris!